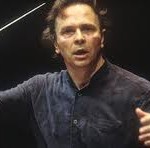 Described as one of "Britains greatest cultural assets", Sir Mark Elder is music director of the Halle Orchestra in Manchester and one our nations leading conductors working with the English National Opera, the BBC Symphony Orchesta aswell as assignments all over the world.  I recently held a dinner in Manchester for some customers where Sir Mark attended and spoke for over two hours about some of his experiences.
He is one of those individuals that you can just sit and listen to all night.  I fiercely scribbled notes down, let me share some of his quotes which came out in conversation (in bold) with my additional interpretation about what that would mean for a business.  Here's 20 things you can learn from one of the countries leading conductors (in no particular order): –
"An Englishmans greatest enemy is his routine" – What elements of you or your organisations routine needs changing, renewing or deleting?  Routine stifles creativity, it's easy to slip into routine – fight it, stop people going through the motions.
"Fresh champagne, not old champagne" – Sometimes a new player coming in, lifts the whole orchestras performance.  Important to consider if people need to be moved around your organisation, to get their 'fizz' back and to provide fresh challenge or whether to bring in new people.
"A performance can misfire but still stay on the page" – This is about resilience and the show going on, despite setbacks.  Learning must be done 'on the fly' – in the performance, and you need a team around you that will 'self-correct.'
"How do you ignite a performance?" It's a conductors job to inject the passion and your job to 'ignite' your team.  Great leaders are a combination of 'Pyromaniac' and 'Fireman'.
"Being a conductor is a combination of head, heart and determination" – Important to understand that as leaders we need to enable the heart, have courage and make balanced decisions.
"If a conductor keels over, the first violinist conducts" – Whose ready to take the stage on your team if you fall over?  Importance of succession planning.
"The oboe always tunes the orchestra" – Which one person or thing is setting the tone for your organisation?   Is yours a perfect note or is someone else nominated to drive the culture to your standard?
"Tell your truth quietly." – Understanding the impact of big conversations with individuals and how these are best handled sensitively and in private.
"The orchestra must exist separate from me" – In the same way our businesses must be able to function and run without us being constantly present.
"A poor orchestra is a 'safe' orchestra who play with no emotion." Each player must express themselves through their music.  How are you alowing individuals to express themselves and their inividuality?
"The business of conducting is a psychological game" – not unlike the workplace!  People are complex, the chemistry of human performance is complex.  Think through your culture, your assets and ask yourself how you can 'cook up' a better outcome by changing or modifying elements of your own behaviour?
 "Champagne without bubbles is a great Chardonnay' – not everyone can fizz with enthusiasm, particularly introverts.  Seek out the Chardonnay and keep your eye on any extroverts that might be 'going flat.'
"Unless it's perfect, there's no beauty" –  What does that beauty translate into in your own team or organisation?  Do people know?
"Rolling a drum takes 12 years practice" – Looks simple, surely everyone can do it? Don't underestimate tasks that may look operationally simply, they make be complex than you imagine.  Always take time to "understand how the work works."
"Leave ideas to marinate" – Warren Buffet said "You can't make a baby in a month by making nine women pregnant" – some things just take time to mature.  Mark said "My chilli is really spicy when its marinated."  Pressure is for us as leaders to decide everything quickly.  
"A concert hall has to have the right combination of acoustics and size" – Important point about creating the right environment for people to work within to get the best outcomes.
"The Sydney Opera House is a great building, but an awful concert hall" – Who'd have thought it?  It's an iconic building and loved by Australians all over the world as a symbol of their national pride.  So, sometimes first impressions can be deceiving and some things may not be fit for purpose?  
"You must seek feedback, but keep it to limited people who know you well" – Mark maintains a trusted circle of people who he can trust to give him the critical feedback he needs after a performance.  It is something he seeks a couple of days afterwards, when the dust has died down.  Feedback is key, particularly in understanding your organisational shadow as a leader which is often unintended.
The importance of thinking time.  Mark spends long periods alone to think through his future performances.  He takes time out to access the 'Alpha' part of his thinking frequency, essential for a creative person but also equally important for every leader.  Look after yourself, give yourself time to think, away from screens, something I'm always banging on about.
An orchestra has a clear chain of command.  The conductor will always communicate with a section leader but approach a player individually if a performance is not up to scratch.  Like all organisations, chains of commands exit, empowered leaders move across, up and down in order to get the best organisational performance.