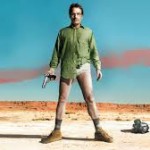 Occasionally a piece of insight hits you in a big way, something that really gets you thinking.  Attending the Benchmark for Business Visionaries Conference in London this week, an insight from speaker Simon Sinek on chemicals in the brain and how these have an impact on people and ultimately the workplace, was my 'Breaking Bad' moment.
The deeper you dive into human performance and the link to neuroscience, psychology and biology, the clearer things seem to get in terms of better understanding of why human beings do what they do, act like they act and why cultures develop as they do.  It's complex though, unpacking it all, but fascinating.
I've long been a fan of developing Emotional Intelligence in self and others.  People with an ability to 'self-manage- develop better coping mechanisms, emotional armour and adaption to change.  Adding the perspective of 'chemical reactions' in the workplace added an interesting dimension for me on top of insights already identified from reading books 'The Chimp Paradox' by Dr. Steve Peters.  When you become conscious of something, you can be more aware of behaviour and reactions which have a common theme.
Neuroscience and the role of Dopamine, Seratonin, Oxytocin and Cortisol are things to pay more attention to in the future for better understanding of the human beings you work with and management of self.  'Cooking' the right culture is something that may well be of high value if the results are increased performance and equipping yourself with the necessary skills to be a scientist of human workplace performance.