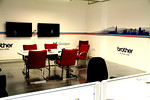 Last night saw the opening of an exciting intitiative from Tie UK North, a brand new incubator for start-up businesses in Spinningfields, Manchester, more about it here. 
Asked to do a talk around 'Business Agility' for the audience, I had a number of people come to me afterwards to ask me if I had a copy of the speech, which thankfully I do.  I'm re-publishing it here for those that asked: –
Phil Jones – Founders Dock  Launch 20/01/2014 – 'Business Agility'
"Last week we had some great news.  Brother had been named in the list of the Sunday Times Top 100 places to work.  Let me place that in some context for you, our parent is 105 years old and our Manchester business is 46 years old.  In a world where most of the household giants are now less than 10 years old, we're a wise elder on the topic of staying relevant to your audience, a key attribute defining an agile organisation.
The last seven years have been the most dynamic I've ever experienced in business.  At times we've ridden waves, other times battled heavy headwinds.  It's the ability to quickly react which differentiates whether you are a puma or a dinosaur in the new new we all now live in.
So many disruptive technologies entered our realm post 2007 that our landscapes began to shift.  The iPhone, iTunes, Cloud Computing, APPS, Twitter, Dropbox, iPads, Android, Google earth – the list goes on and on. 
And then someone pressed self-destruct on the economy in 2008, creating a perfect storm of technological, organisational and economic turmoil.  I'm sure every business leader in the room has their share of success and horror stories of how this new world order has impacted them, perhaps forcing an unplanned change.
But what is business agility?
It depends who you ask and there are numerous interpretations of the word and what it stands for.  Maybe in the last few years it's all been about reducing organisational trauma as your business adapts to new markets, for others about finding the quick wins to take on a new-entrant disrupting previous holy ground.
The bottom line is having a workforce, organisational structure, business model and capability to deal with anything that gets thrown at you!  I believe AGILITY is the ATTITUDE of your people, more than your processes.
In the heart of all of this lies the creative leader, the light burst of energy who can inspire, direct and encourage people to turn up with the right attitude towards change.  Recessions bring fear or flight thinking, buttoning down the hatches, sticking with the knitting, risk aversion and controlling behaviour.  It's about the worst possible environment for large, established businesses battling to keep their oil tanker afloat, whilst observing bootstrapped new entrants kicking the living daylights out of their business model.
Energised and connected leaders who can see this, roll their sleeves in readiness, obsessing about customers in order to stay relevant and intimate.  They are rarely caught asleep at the wheel, a la HMV, Woolworths, Blockbuster, as they are connected to the pulse of the customer, bringing back insights and always ensuring the direction of travel is correct, although the final destination may well still be undetermined.
Words that we normally associate at Brother with agility are: – flexibility, balance, adaptability, co-ordination, autonomy, fluidity, de-centralisation and dexterity, difficult to do all at once unless you are the guy from the TV show 'don't look down' on Channel 4 last night!
We wrapped this all up in an acronym called 'PRIDE' – Personal Responsibility In Delivering Excellence.  Driving down responsibility to human beings in a work community to be their best, to adapt and to work through whatever might come through the door.
But why agility has become a theme?
With all this technology, we are now entering the age of 'isation' – Democratisation, Virtualisation, Consumerisation, Commodisation, Cannibalisation and Globalisation.  A trickle down effect which has put power right in the hands of people to work anywhere, to amplify their voice and demand the lowest cost for anything, from anyone.  The customer is no longer king, they are king kong with corporate reputations under risk from the crowd as they gather across social computing networks to force change from slow responders or head in the sanders.
But big are speeding up as changes in working practice, culture and organisational structure work through.  We call this 'Kinetic' working at Brother, creating a workplace which is not pyramid shaped, but molecular in structure.  Providing a workplace which is 'community' driven, with the emphasis being on outcomes not hierarchical status.  Using advancements in technology and the revolution in mobile technology to drive location independent working and increasing our reach into the talent pool. 
The next five years we will continue to see a period of collaboration, sharing, openness, transparency, disruption, creativity
and innovation.  It won't be about the survival of the fittest, but the thinnest.  
Those benefiting from low cost, PAYG infrastructure and workforces will surely succeed over the fixed cost burdens of many larger businesses as they grapple to de-layer, de-construct and determine the middle ground between centralised and de-centralised working.
2020 – 2040 is a tipping point for agility as baby boomers and Generation X retire giving way to the high alacrity Gen Y + Z so used to everything being an application away from anything they need to do. They will demand new democratised work environments with an emphasis on how work fits around their life, rather than the other way round.  Businesses must de-learn their methods of working and adopt new flexible structures, revving up and down, in line with market demand and plus workforce availability.
For Manchester and business to succeed, it must be fleet of foot, in a state of readiness with capable people, skill enabled and backed by the right business environment – networks (physical and data) will be key.  The speed at which business can be transacted will be key to capitalise on the opportunities that present themselves nationally and internationally, business without borders.
The region needs to think bigger than a region, it needs to thing global, grabbing temporary competitive advantage to be more fleet of foot for business and its residents.  Perhaps the internet of things is the big opportunity to make this one of the smartest cities on the planet?
But none of this matters without action.
  A region wont grow unless businesses start.  Businesses won't succeed without the resources to nuture them from incubation to fly.  Large established businesses won't change unless they adopt a mindset of agility, it all starts with the leadership.  Now it's about communities, collaboration and connectivity!  
Embrace new methods of working, speed up, assist, collaborate or kick the living daylights out of your competition with a pre-emptive strike – but do something!
Speaking to an audience of industry executives in London last week I gave two pieces of advice for the future and both pieces were one word: –
Change will be constant.

Change!
The objective of this incubator is to provide the platform for ideas to turn into actions and businesses.  To keep talent here, to nurture it, to build a future for this great City.  This incubator will be well resourced, with full
web video conferencing
, opening the capability of the businesses within it to collaborate with anyone in the world, without a mile of HS2 train track needing to be laid!!
I like to think that the moment of serendipity described earlier sums us up (refers to how Brother came involved with this project after a chance meeting on Embankment tube station).  Seeing an opportunity, evaluating it quickly, taking first mover advantage of the opportunity, working it through and creating this space in rapid time working with TiE, sums up that even big business, can be small.
We like to think that we not only talk the talk, but walk the walk, demonstrated by our recent award.  It's not easy, it takes guts, determination and a lot of change, a committed workforce, the right structures, difficult conversations, tense meeting rooms and a passion for the possible.  
You don't have to have it all figured out to move forward but do move forward and always good to remember that you can't do today's job with yesterdays methods and be in business tomorrow."
 Ends.