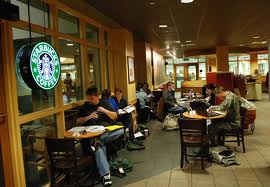 According to some research we've just conducted, 22% of new start businesses base themselves in a coffee shop and are driving a new trend we describe as "cappuccino commerce."
Speaking on Radio 5 live this morning, I cited some of the drivers behind this trend, as always airtime is very limited, so I'm expanding some of the notes I'd prepared here for quick and easy comsumption.
The new postcode of SME's is "no fixed abode."
Technology is the key driver of this change, in particular the availability of free wi-fi and cloud computing.  71% of respondents cited smartphones, mobile printing devices and tablet computers as the key things that felt enabled them to work in this way.
67% of these businesses intend to stay "office free."
AAA* is the new standard for business success "Anytime, Anyplace, Anywhere."
It took Apple 24 years to sell 67M i-macs, it took them 3 years to sell as many i-phones and only 2 years to sell as many i-pads.
Apple derives 60% of it's revenues now from products that didn't exist 3 years ago.
Access is the oxygen to mobile businesses (access to wi-fi or a high speed mobile network).
New start businesses have high agility, this ability to work anywhere gives them competitive advantage, not disadvantage.
SoLoMo – Social, Local and Mobile businesses are the key trends fuelling further new starts and customer buying behaviour.
Fi-Wi is the new Wi-Fi.  Users are demanding higher speed on the move.
Generation X, Y + Z are all participating in the shift.
Businesses like Brother are adapting their product offers to this new breed of "roam-workers" by introducing new products like mobile printers, mobile scanners, i-pad print and scan applications plus cloud printing applications.
Globalisation of business means people need to be on the move.
Access to power is also one of the key considerations as to where people work.  No power = juice jitters and technology meltdown.  Coffee shops, listen up!
Digital Ubiquity is the new watchword – you heard it here first.