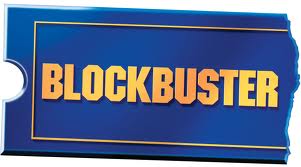 Today we learned that video chain – Blockbuster – has called in the administrators,  in the same week that music retailer – HMV – did the same.
For many observers, it's no big surprise.  You only need to look at the prolific rise of initially DVD mail services like Lovefilm, who have quickly migrated their business model over to a film on demand model or the launch of new services like Netflix or Blinkbox to know that the writing was on the wall for "nightly hire" DVD's.  Also on the threat matrix are the thousands of DVD's to be impulse purchased in supermarkets for the price of a nightly rental.
I've spoken time and time again in this blog of the necessity to always understand what disruptive technologies are launching, who your indirect competitors might be and what changes are being wtitnessed in consumer behaviour, in order that you can make sound choices about future pathways.  Without these, you are not keeping pace with the world.  Add to that the totally transparent levels of pricing of just about anything and you have a perfect hurricane (not storm) ready to rip through your business model.
It's hard to believe that the strategic plan of Blockbuster did not consider these things, if they didn't, then the blame lays firmly and squarely with the senior team.  Maybe it was speed, they knew what needed to be done, but didn't possess the talent or technology to move quickly.  Perhaps it was the business model, over 500 locations with eager landlords tied into long leases which couldn't be unwound.  Or the cost of downsizing the whole thing simply couldn't be borne from reserves.  The administrators will quickly figure things out and see what value remains.  Whether anyone feels there is anything sustainable to buy, I think unlikely.
Hungry consumers will be ready to pick over the bones, to give the shops a temporary buzz as they sense a bargain and a kill.  It's estimated that the closure of Blockbuster, along with HMV and Comet will increase the empty retail outlet numbers by 5%, so cue more charity shops to a town near you soon.
Retail needs to be multi-channel and highly distinctive.  Creating store experiences that blend the on and off-line world, giving people a real reason to visit a store.  I categorise today's buyers into three types: -
I-WIN = I Want It Now.  The tribe that leaves things too late to internet shop or hunting down something due to a breakage or fault.
I-WAIT = I know what I want but I will happily on-line shop for it.  Likely to go to a store to see something or try it on, but happy to wait and order it on-line for a better deal.
I-BROWSE = In a state of active purchase.  Happy to browse a shop and make an impulse purchase or browse an internet site.
Many of the big retailers have already recognised this and have created "destination" stores and integrated multi-channel experiences giving someone a real reason to visit using theatre or over and above benefits to shopping on-line, I call these "perkonomics".  Hi-Fi retailer Richer Sounds are great at this, driving foot traffic to stores promising "better than the web deals" with real personal service.
Blockbuster won't be the last.  Other retail chains may fall in 2013, January is normally the time when chains go, with Christmas sales dictating whether they can pay the next quarters rent.  What's for certain is the landscape has permanently changed and the internet has truly challenged the high overhead cost of chains running stores.  Things will be fine for the big retailers that own their own brands and margins, life will remain pressurised for those that don't.