Last week presented an interesting opportunity.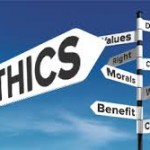 Invited to talk to a group of scholars, academics and spiritual leaders about the role of 'ethical leadership' it was the first time I'd seen all three groups represented in one room on this specific topic.  It wasn't an easy gig with some members in the room taking a highly critical position given the number of recent high profile examples of potentially poor 'ethical leadership' (note it is quite a wide description) diluting trust and confidence potentially for all.
I recall Stephen M. R. Covey recently saying 'There is a crisis in trust and a renaissance of trust happening at both ends of the scale'.  In other words, the situation is very fluid with some businesses leading the way and others lagging.
My point was that much of this boiled down to the moral compass of the individual leader and the mood music they generate in their organisation to result in the culture.  Trust is a function of credibility, behaviour, integrity, intent, capability and results.
A leader sets the tone, lives the values and stands as the ultimate role model for those they work alongside – open to audit.  In my experience, outstanding leaders are clear about their personal values, knowing right from wrong with a strong sense of belief of what they do and do not stand for in all elements of their life.  They create the code for their own system of ethics which flow right through the heart of their workplace culture.
Specifically the role of meditation was discussed in the context of this debate, having clarity of thought, time out and perspective to name a few alongside ego reduction – all of which I agree with as part of a programme of balanced thinking.  In my view there is also a strong neuroscience contribution alongside the role of psychology and introspection.  When those multiple components begin to combine, the levels of emotional intelligence and monitoring which develop lead to high tendencies for ethical leadership.
The entire issue is complex and very easy to wrap up to a 'systemic' level.  Debate can become geo-political, transcending cultures and countries.  Bringing it back with a bump, my view is that the new informed consumer will continue to vote with their 'likes' and 'wallets' if they dislike what an organisation stands for.  Talent won't join or stay, workplace performance will border on 'average' and 'active disengagement' will be the order of the day.  Business won't have a choice but to be ethical.
Enlightened leaders already know this, they are already developing high trust, transparent work cultures.  They know that humans make the difference in the things they do, how they buy and what they talk about on and off-line.  They're on it.