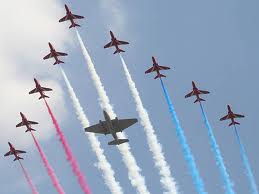 The Queens Jubilee is a moment when the nation stops for a minute and remembers what it is to be a member of the United Kingdom of Great Britain and Northern Ireland (to give us our full title).
Watching the armed forces tribute to the Queen the other Saturday, with all the pomp and pageantry, made me think that there are few nations out there with such an ability to display such an occassion – including the Red Arrows flypast.
Over the centuries the Welsh, Irish (Northern), Scottish and English have recognised our differences and I guess there is a strong lesson there about the value of compromise.  Each member of the United Kingdom wanting to ensure it retains it's individuality but also by being part of something bigger.
The Value of Compromise
If you have a mindset of being open to compromise, then it means your always open to new ideas and new thoughts.  Being able to see the other side is a valuable characteristic in assessing whether it's time to change your view or indeed, to stick to it. 
If you view every other relationship you hold on an equal basis, then it leaves the door open to listen to feedback, adjust your view, update, re-calibrate and shift if necessary.  Debate can be a brilliant tool to drive out the detail in topics, if your culture permits it.  As you grow older, wisdom begins to arrive unexpectedly and you become much more open to new ideas, you realise the power of compromise – where appropriate. 
Life is too short and spending time arguing on fixed positions on things that don't really matter that much in the big picture, is wasted effort.  If you respect that we're all different and that being  different will mean we see the world through different lenses, then you'll spend a lot less time trying to be right about everything and be prepared to compromise more in order to move you and others on.