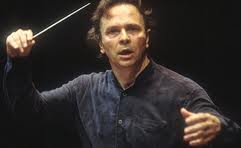 Ever heard that old cliche "leading is like being a conductor of an orchestra?"  Well, I'm hear to tell you it it is.  How do I know?  On Monday night this week I was fortunate enough to sit next to Internationally renowned conductor – Sir Mark Elder CBE.
Elder (64), musical director at the Halle Orchestra in Manchester, candidly answered some questions I had about the old adage of comparing a conductor to a leader of a business.  Elder is really charasmatic, intense, highly articulate and one of those people you wish you got sat next to over dinner, luckily I did!
He was able to draw so many parallels to business, he really ought to get on the speaking circuit!  However, this man is about "personal and artistic chemistry" and striving for new levels of excellence from the orchestra he leads and in his own ability to conduct music.  There was so much to capture, I didn't get everything, however here are some of the nuggets that I managed to scribble down: -
His first big leadership challenge came in 1979 when he had to wrestle an orchestra to his way of thinking.  At the time he was a new fledging conductor and respect had to be earned.  He was home grown within the orchestra and quickly begain to tackle the key issues of underperforming players.  He faced the brutal truth quickly that to be excellent, he needed excellence from everyone.  After a long period of working with resistant individuals he had his "if you can't change the people, change the people" moment, he summarily issued notice to those underperforming players.  For this step, Private Eye magazine described him as "Mark the knife."  Years later, that tough decision paid him a huge dividend as he was able to replace them with high performing players.

He learns the name of all the major players in the orchestra before conducting them.  Even if hosting an orchestra for one night, he ensures that he knows who the key people are and addressed them by name.  This ensures that he wins the orchestra over quickly to work with him, realising that the performance relies on "feeling, hearing and understanding."  A connected orchestra, with mutual respect, play better.

He describes himself as a "stayer".   In all his conducting positions over the years, he has always had a big picture in his head and articulated that vision to the orchestra.  Communication of that vision ensures that the orchestra never remains stale and continues to pursue the big picture, not just the one off performance.
Orchestras conventions can be different from country to country.   Conducting an orchestra in America, is different to Italy, is different to Japan, is different to the UK.  Elder recognised he has to "flex" his style for each orchestra to get the most out of them, the same way leaders in business should do with their teams.
A chain of command is important to get the right results.  The orchestra is broken down into sections, each section leader is responsible for it and the players within it.  Elder communicates with those section leaders if he needs improvement, they then get the performance from their players.  This chain of command ensures clarity of communication and feedback.

The importance of courage.  Elder came back to this word time and time again.  He needed courage to dismiss the underperforming players at the start of his career, courage to take on new pieces of music and cites courage of your convictions.  Leadership is exactly the same, it takes courage to make big decisions, sometimes in the face of adversity.
Accepting responsibility for your own errors.  I asked Elder whether someone pulls him up when he makes a mistake?  He was quick to answer, "If I know I've made a mistake, I immediately accept responsibility for it."  The hallmark of any great leaders is to have humility, apologising and admitting your mistakes builds empathy with others.  Leadership isn't about being perfect, it's about being you, with all your vulnerabilities displayed.
Leading the orchestra isn't about being a robotic conductor, it's about "the balance between brain and heart."  Elder has real panache.  You could tell that when he talked, always choosing words carefully and answering questions with a real honesty.  You warmed to him immediately as he articulately re-told humourous stories, kept eye contact – like a tractor beam and articulated his vision for the Halle orchestra, which he leads.  There's an important lesson there, which is to be the real you in your life.  To show compassion, care and empathy in the workplace alongside all the other excellent technical capabilities you have.
I could have talked to Sir Mark Elder all night, he's such an interesting character.  Witty, charming, super-intelligent and statesmanlike.  Back to my earlier point, he's make a fantastic conference speaker as I'm sure he'd conduct a room with the same passion and results that he conducts an orchestra.