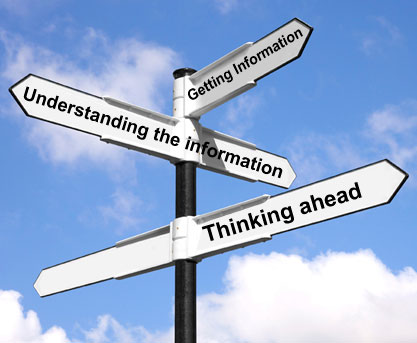 As someone that rides around 4,000 miles a year on my bike, I'm well aware of the need for 'Situational Awareness' or SA.  As I cycle along, there is a constant scan going on in my mind: –
What's ahead? – Potholes, puddles hiding potholes, pedestrians doing something unexpected, a hill, a turn, a junction, a set of lights, a car getting ready to exit a junction.
What's behind? – Is the car behind getting impatient?  Is the engine revving?  Is there space ahead if someone was to recklessly pass me?  Can I safely move across the lane?
How am I feeling? – Am I fatigued? Have I made any assumptions? Am I on auto-pilot?  Am I rushing?
Having a "360 degree view' in the moment is key to make good decisions.  Situational Expert Dr. Mida Endsley determines it as "…..the perception of the elements in the environment within a volume of time and space, the comprehension of their meaning, and the projection of their status in the near future."  SA is used extensively by pilots who need to synthesise significant amounts of information, whilst retaining the 'landscape' view at all times.  If you've ever watched Aircrash Investigation on Discovery, you'll know why as many accidents have been caused by a pilot 'over-focusing' on one set of data under pressure.
Your own SA can be determined by many factors including stress, poor sleep, confusion, uncertainty, distraction, fixation on one outcome or failing to recognise contradictory statements or situations.  It happened to me only last week, when paying for my lunch.  I was focused on a till LCD which told me one thing, yet I was failing to listen to the operator who was telling me something else.   I didn't see the contradiction as someone was talking to me in the queue, I was focused on the screen and handed over the exact amount on the LCD, which was incorrect (it was the last transaction, not the total).  Looking back, I was distracted, maintaining two conversations.
SA in Business
Losing 'Situational Awareness' in business is easy.  Being over-focused on something, wanting a specific outcome, being under pressure be that time or other, failing to step-back and seeing each issue in isolation, looking at one set of data or not listening are just some of the things that can lead to poor decision making.  Developing your SA, is all about thinking about things in a bigger picture: –
What is the context for what am I being asked?
What data do I have to help me?
Am I 'in the right place' to call this?
How does this decision impact others?
Is there any conflicting information about this situation?
Is there a personal agenda at play?
Who or what is pressurising this decision or situation and why?
How does this impact the future?
Does this add risk or de-risk us?
What assumptions are being made and are they evidenced?
Are we fixated on one outcome?
Making quality decisions is all about ensuring you are thinking wide and expansively, you have to 'Look, then Think, then Act."  As business speeds up, decisions can get made quickly, sometimes too quickly.  Maintaining 'Situational Awareness' is a key attribute of any leader being faced with multiple decisions.  It leads to better decisions in the long term, so speed isn't necessarily always a good thing if you want the 'best' decision to be made.  SA is also a very good technique to use in your personal life if you're faced with big decisions, see if you might be able to use it next time something big or 'out of the blue' crops up.