Phil Jones Biog
Phil Jones MBE – Managing Director, Brother UK
Phil Jones has an intriguing story of how a self-confessed "average salesman" wound up running a nine figure a year business, transforming himself into a thought leader in the area of personal potential and scooping up numerous business awards along the way.
Preferring to describe his day job as COE "Chief Opportunity Engineer" of the business he now runs, Phil has a refreshing philosophy about the role of the modern day leader in a large business and how the battle for 'hearts and minds' should be high on the priority list or any organisation seeking growth at all levels.
Offering practical, implementable advice, Phil talks from personal experience about the challenges of running a large enterprise with a refreshing honesty plus his own journey of self-discovery.  A process he describes as developing a mindset of 'Unlimited Potential.'
Unconventional, Inspiring and Knowledgeable, time spent with Phil will leave you with a book of notes, action points and thoughts to reflect on for your own journey.
Outside of work he is a keen road-cyclist – confessing to owning five bikes, covering around two hundred miles a week and one of the UK's leading road cycling bloggers.
A former winner of the Institute of Directors NW Director of the Year (2011), and recognised by the Variety Club of Great Britain as a 'Legend of Industry' in 2013.  2014 saw him recognised as one of the Power 100 influencers in the North West of England, one the Top 100 UK people in Manufacturing and one of the Top 100 UK Entrepreneurial influencers.  He is a fellow of the Institute of Directors, a companion of the Chartered Management Institute and was awarded an MBE for 'Services to Business' in June 2016.
Phil is an engaging and personable speaker who will leave any audience inspired.
Phil also writes a business and leadership blog at www.philjones.biz and can be found on Twitter @philjones40.
Photography (Low-Res)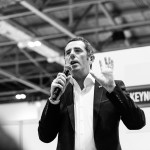 Phil Jones – Low Resolution