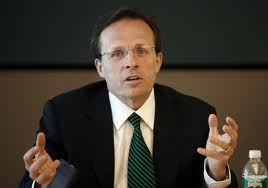 Senior Vice-President and Chief Financial Officer of IBM – Mark Loughbridge – visited Manchester last week to deliver a lecture at the business school about IBM and their 100 year journey from a small punchcard company to global giant.  In an hour long talk, he covered the four phases of IBM's existence, including the disastrous imploding which saw their share price collapse between 1973-1993 as the company lost it's way and drifted from its core competency, losing $16bn in 3 year period at one point.
Compare that with now and IBM is unrecognisable.  They totally turned the business around and made an astonishing 125 acquisitions from 2000 onwards, totalling $33bn, quite a story.  Highly articulate money man – Loughbridge, 57 – lived through all of this.  Joining IBM in 1977, he now has over 11,000 financial people reporting into him across the globe.
A few things stood out for me from the lecture, which I think are worthy of note: -
Between 1951-1972, what he described as "The System/360″ years, the then president discontinued every single product line they owned and threw an incredible amount of money at product development.  During this period, they spent as much on R&D as the American government did putting the Apollo space rocket on the moon.  After a period of re-consolidation, IBM came back stronger and went on to grow at 20% CAGR.
When they had their bad times, it was because the company launched into so many non-core areas, in so many countries, they lost the DNA of the businesss.  Son of the founder – Thomas J. Watson Jr – was quoted as saying "It's harder to keep a business great, than it is to build it."  This took a massive amount of energy to turn round and at times the business came close to running out of cash.  A far cry from the hugely profitable business it is now with $47bm a year in gross margins alone.
They achieved the turnaround by jettisoning low margin, non-core businesses and launched themselves into the services/consulting sector, focusing on performance, information and content.  They acquired buinesses with high margin potential and proprietary technology, improving productivity and margin as they consolidated them into the group. IBM now employees over 420,000 people – some wage bill that must be.
It's a fascinating story of a business that grew and grew and grew, had a major period of drifting in the wilderness which nearly bought it to bankruptcy, which turned itself round to become a huge global organisation with massive profits.    There's some lessons there: -
Sometimes you have to be bold, to stay relevant. Discontinuing every product they produced was a massive gamble or calculated risk?  Looking back, their CEO was a visionary, he studied what he felt the future might look like and got the business ready for it.  What's the future for your business/category/space?
Big decisions need implementing. Jettisoning the low margin businesses, cost a lot of money and time,  however they had to cut them loose to grow their profitability.  Think long term, don't wed yourself to something because it has been great in the past.  If you decide to do something big, do it.
They standardised quickly. Using the same language for financial reporting, sales reporting and group KPI's.  It was "my way or the highway" when it came to implementing reporting.  Those that resisted were quickly exited in favour of progress.  Time was against them, they had a sense of urgency to save IBM in the dark days.  What could you do to standardise more and get a common language going in your business as you grow.
They dealt with the brutal truth. Read Jim Collins book "Good to Great" and you'll see the importance of doing that.
They had a strong vision of the future. Loughbridge put up some interesting charts which they used with investors, to give clarity as to their future plans and reasons for acquisitions.  Many of those reached out over ten years.  It's important to financially plan, to know what course you're ultimately sailing.
It was an hour well invested.  Some good lessons and a great reminder that even big businesses get it wrong.  The trick is, recognising it and pulling it back.