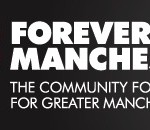 This morning news broke that I have accepted the role of President of Greater Manchester Community Foundation – Forever Manchester.
It's always difficult to explain – in detail – the full rationale in a press release or on Twitter, so taking the opportunity, here's a few more words of why I was so impressed by what they do.
The Big Causes win the Big Bucks
Sometime ago I was asked to speak at an event discussing the role of corporate citizenship and it facilitated me going away and looking at some figures around charitable giving.  It really opened my eyes up when I realised how much money is scooped up by the single-cause large national charities, then how much of that is then used in running costs, rather than going to the cause.
It concerned me how hard things were becoming for other smaller and regional charitable causes, who didn't have these big fundraising machines or communication capabilities.  I saw this first hand with a small charity we support locally to us.
Scanning the future horizon on work and generational change too, it's becoming clear that the link between the community of where you work and where you live are over-lapping, particularly for Gen Y.  So, if talent retention and recruitment is high on your agenda, then the link between the 'purpose' of an organisation and why people join it, is becoming vitally important.
When surveyed about Corporate Responsibility and giving, 70% of respondents indicated they would like causes to be Manchester based and 70% state it increased job satisfaction. A pretty compelling statistic for any talent professional to sit up and take notice of.
 10 Reasons Why This Makes Sense


The direct link to my personal higher purpose – "To grow the Unlimited Potential in Others' and my life mission "A 'MAD' for it mindset" (making a difference) direct all the choices in my life.  By putting my effort into Forever Manchester, who then go on to help thousands of others, it's a great way of amplifying effort.  In my life plan, my ambition is to touch the life of millions in some way, so this community foundation is the perfect vehicle to bring any expertise I possess to help others in volume.
Citizenship is the responsibility of us all as human beings and we shouldn't stand by and see communities crumble or be labelled 'dysfunctional' when there are people there who still work tirelessly to bridge gaps and put their hands up to work through whatever difficulties might be present.  Whether that be a singing or knitting group for the elderly, a youth community project or a minority group.  Let's back those individuals!
There are some brilliant people working 'under the radar' here in Greater Manchester to unconditionally change the outcomes for others and they need to be backed. If you've ever watched 'The Secret Millionaire' with tears in your eyes as people go under the bonnet in communities, that's the best example of what they do.  62% of people who are granted funds by Forever Manchester have never once asked for help from additional funding sources, 37% say their project would have never have started without their help, they just got on with it.  I love that spirit of action.
Forever Manchester use a framework they call 'ABCD' (Asset Based Community Development) which maps the resources of a community to then make stronger ties between resources that may already exist.  This 'modelling' means they don't work in isolation but look to make ties.  This makes sense to me as a business leader as it ensures they don't duplicate effort, increasing impact often at very low cost.  £250 is the most gifted amount of money, with an 80% sustainability rate.  Impressive.
If we as businesses recognise that many of the people work within our businesses are also citizens of the communities in Greater Manchester, then there is an inherent business benefit to improving these communities and linking corporate purpose to community purpose (making the one of the same thing).  Generation Y value this link highly.
The 'find it, fund it,  fix it model (quote attributed to CEO of Forever Manchester CEO, Nick Massey DL) needs refreshing.  We are moving into the age of empowerment, crowdfunding, social action via platforms and citizenship at all levels coming (business and personal) to the fore.
Many businesses don't realise that most of the money raised in this region, leaves the region.  It would be fantastic to see the generosity afforded by many really go back to the doorsteps of the communities that could really benefit.  A real potential upside of Corporate Citizenship.
Many people are put off by the 'red tape' of applying for help.  Forever Manchester adopt a 'just do it' attitude wherever possible, which will appeal to many of the highly successful entrepreneurs in the region.  They ask the questions, get it, then got on with it, rather than diluting the passion out of an idea through complicated application procedures.  Action sits as the priority, not KPI box ticking.
Forever Manchester act as a broker to represent all these magnificent smaller causes, reducing massively any burden on an employer for finding the right fit for the causes they are passionate about.  That's an efficient way to work and this message needs to be carried.
Passion.  Everyone who I have thus far met involved with the foundation are passionate about the outcomes for others.  Whether it be the community spotters, the ambassadors or the back end support people.  They tell inspiring stories of small ideas which become big impact projects for human beings when someone just believes in them.
A real honour in the 25th year of Forever Manchester to work alongside the executive team, the people in the foundation, the ambassadors and its supporters to help shape and define the legacy of the next 25 years.  It's all about doing 'extraordinary things together'.