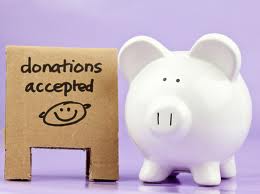 Today I did a short talk at a local event called Tameside4good describing our reasons for supporting a local charity.  The event, designed to connect local charities with local businesses, was a great platform to talk about why charitable giving doesn't have to be about chequebooks.  I entitled the talk "Feel like a secret millionaire" comparing the personal ephiphany of the millionaire who gives on the TV show with what you might also experience when helping others.
Smaller charities are finding it harder than ever to raise funds, with the recession continuing to squeeze incomes and businesses tightly controlling costs.  The big charities are spending more than ever on their marketing, dominating their share of the giving wallet, with the top 3% of named charities in the UK mopping up over 60% of the £11bn donated.  Healthcare, hospitals, animal and religous charities scoop 49% of all available cause donations, leaving the remainder to mop up the difference.
My role today was to describe why we – a large corporate – work with a small local charity and what benefits they get and we get in the deal.  Some of my key points were: -
We preferred to work with local charities to our office where our footprint could be felt more strongly and staff more connected with the local outcome.
You can't help everyone and better to back someone local and back them big (relative to their running costs) to make a difference.
It's not always about the money.  We help out with other resources, time, administration, printing, website updates and marketing.
Our profile as a large company adds a lot of kudos to a small charity, attracting other companies to the concept.
The impact of our effort is clear and the majority of funds raised (95%+) go into delivery on the ground giving much bigger impact.
The charity is far more accessible and they are always dropping by to let us know how things are going or to ask advice, they feel part of us.
There is a lot of upside to going local.  Nearly all large businesses have some sort of Corporate Social Responsibilty programme and the concept is trickling right down to micro-businesses who are also 'giving something back.'  There is an immense sense of personal and business achievement when you can unconditionally help others and I remarked that "you'll sleep easier and night and wake up with a ready-brek glow in the morning" when you know that you've done something amazing.
I finished today by saying that charitable giving should not be attached to ROI (return on investment) as with other money/time that you might contribute in day to day life.  It should be attached to simply doing the RIGHT thing, growing yourself by growing someone else and being "mad for it" (mad being an acronym for "Making A Difference").  Giving doesn't have to be about money, you might well possess multiple skills in your business that would be solid gold to a small charity.  Things like accountancy services, PR, marketing, website maintenance, vehicle servicing, signwriting – stuff that might not cost you anything but might cost a small charity lots.
So, be MAD for it yourself.  Pick a local charity, go see them and see what they do, understand their problems and how you can help, then DO SOMETHING AMAZING by helping them out.