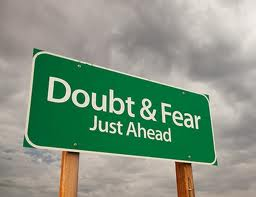 Fear stifles, it stops people from doing things and creates inertia, driving the voices in your head to trigger often irrational feelings.  Fear can manifest itself in many ways, inaction, procrastination and physical symptoms.  Ten common fears are: -
Fear of failure
Fear of Ridicule
Fear of Death
Fear of Rejection
Fear of Loneliness
Fear of Misery
Fear of Disappointment
Fear of Pain
Fear of the Unknown
Fear of Loss of Freedom
You wonder how we ever get to do anything in life?  Fear may be stopping you from achieving something wonderful right now, but are you conscious of it?  
You're probably aware of things like a fear of heights or spiders, but is 'fear of failure' or 'ridicule' stopping you from changing a career, starting a business or doing something you deep down want  to?  Fear of success is also a distortion believe it or not.
It all starts with consciousness and truly understanding those elements in your belief system which are acting as deterrents in you taking big steps towards your goals.  The bottom line is people over-analyse things. Successful people I've met generally care very little about the opinions of others, unless they help move them towards their goals.  They have developed the right emotional armour to quickly decipher what does/does not serve them (see
this
previous post for more info). 
I've witnessed a common trait in their ability to face their fear and manage the consequences, often being close to the brink, yet still taking one further step into the unknown – managing fear.
I'm not a big lover of heights, yet I always stand by the window in a glass lift or peer over the edge on the top of a tall building. Why? It's about managing that fear and getting on top of it.  I'm conscious of it, so must work to convert my 'fear of heights' into a 'fear of falling' then rationalising just how safe I really am in reality to make it logical and evidence based.  A favourite saying is fear is "False Evidence Appearing Real".   You need to turn your fears into evidence based enquiry, hence standing at the edge and ingoring the irrational.
Society brings with it a whole load of baggage about what is/what isn't acceptable in terms of things that may place invisible barriers in the way of your success.  Being the best possible version of self is about walking your own path, being true to your values, your higher purpose and those things you feel passionate about. The opinion of others should not distract you, always beware the collective, be your own story.
Walk your path without fear. Take steps into the unknown, create something, align with your true purpose and realise you may well have been getting in your own way.