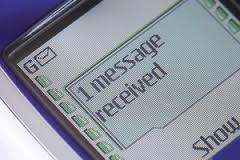 Yesterday saw the milestone anniversary of 20 years since the first text message was sent.  On the 3rd of December 1992 a vodafone engineer sent the words "Merry Xmas" to a mobile phone and the rest is history.  2011 saw around 8 trillion text messages sent, 150bn of which were in the UK. 
It's almost unimaginable to think about lift without text messages in the current day.  For many, text is still the number one platform for those on your "inner circle" of contacts, a text notification trumping updates/messages from other platforms.  Yes, users are spreading out their messages to different platforms like BBM or Whatsapp, both born from the concept of short messaging.  Chatting to a generation Y today, across all the various platforms, they sent around 100 messages per day on their mobile device across three differing services including SMS, but excluding social media updates on Twitter or Facebook – that's a huge amount of messaging.
In business, you are always looking for things that may disrupt your business model.  SMS was one of those things that had disruption designed into it, as it impacted on the amount of calls people made and the letters and faxes they may have previously sent suddenly went onto a mobile device.  I can remember tapping out my first text on a Nokia phone, three presses for a 'C', two for an "F", those old enough will remember.  It's a far cry from now.
Other examples of disruptive technology are cloud computing (demise of hosted software), tablet computers (demise of laptops), MP3 players (death of record shops), broadband (where do I start).  It happens in services too, think of moneysupermarket (reducing need for financial advisors), Direct Line (going direct and cutting out the middle man), Crowdfunding (start-up funding from strangers reducing the need for banks), the list goes on and on.
The trick is to spot the difference between a fad and a trend.  Texting was a trend, it's lasted for 20 odd years.  Fads simply come and go, they don't last or provide long term disruption to an industry or behaviour.  Personally I devote time to evaluating what the big trends are in the consumer space and business space, inside and outside of our industry as it helps to give you the general sense of direction and potential for future disruption.  Will texting last another 20 years?  Probably not.  Like the fax machine and typewriter, it will have played a hugely important part in the development of communications, however new instant messaging platforms are likely to be the winners in the long term.
Whether these messaging platforms with their shortened catchphrases will add anything to our abilty to communicate as human beings in the long term is up for debate.  Data suggests that the average Gen X has a daily vocabulary range of around 2,000 words, a Generation Y is around 800, so when we get to Generation Z, life is going to be truly interesting – LOL!