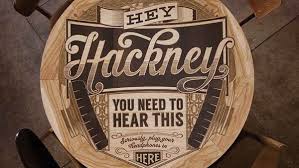 "I was on my own without a grand plan."
Last night I attended the Northern Digitals BLAB event in Manchester to listen to two heavyweights (reputationally) of the creative world, Steven Bonner and John McFaul.  A packed room of around 190 people gathered to hear them tell their respective stories of how they carved their niche in the heavily crowded world of design, to establish themselves as renowned in their peer group.  Bonners line above conveyed well the risk he took to follow his dream of turning his love of "typography" into a business.
Highly creative people always really interest me.  I'm a person that can happily generate ideas, however turning those ideas into original concepts, art or design is a skill I'd love to have.  Both presenters showed amazing visual work, like the image to the right which Bonner helped to co-collaborate.  After hearing him speak I'll never look at a font again without a greater appreciation for the work that may have gone into it.
John McFaul (see pic below) demonstrated a real panache in his delivery, he articulated well his obsession with momentum.  Always moving forward, pushing a new boundary, re-defining something new.  No surprise that he now specialises primarily with sporting companies like Vandeyk, Ashmei and Beacon Bikes.  He spoke of his personal journey, often troubled, whilst he ultimately defined what he really wanted to do in terms of working with brands which connected with his personal passions of running and cycling.
I've been fortunate to get to know John personally and professionally, through our shared interest of all things two wheels.  In him, I've seen this obsession for the small details come to bear, I compare him to the level of obsessiveness that Steve Jobs had for perfection, seeing things others may not, taking care of the tiniest detail in order that a brand proposition be fulfilled.  Precise and controlled, he looks for simplicity in a brand promise, de-layering a proposition to its truth – powerful stuff.
Driving home, I always like to think about take-aways for others, here's a few things: –
Both individuals had previously been unhappy at some point, which ultimately then led them to their individual passions.  A lesson for us all there.
Both were big collaborators.  Never seeing themselves as the single solution to a problem, able to generate a single solution naturally, but always open to the critique, ideas and collaboration opportunities working with other like minded people may bring.  A reminder to always be open and allow other people to develop you through new ideas.  A saying I like is "When you talk, you are only repeating what you already know.  But if you listen, you may learn something new."
Both were incredibly hard workers.  Bonner citing "Hard work trumps talent."  He'd done the hard yards in learning the technicalities of his craft.  McFaul spoke of the crazy hours he worked serving clients in different time zones across the world.  Nothing on a plate here, listen up Gen Y!
Both were habitual learners and de-learners.  Never satisfied with the current, there always had to be something new.  What do you need to de-learn in order to open up to new potential?
Both took risks.  Following their real passion, their hearts, getting aligned into their personal truths.  Leaps of faith were regularly required, but they both took them in order to follow their desired pathway.  Both ultimately are entrepreneurs, running their own businesses, but they would not label themselves that way.  Both put thoughts and words into action, where creativity becomes innovations.  Lesson – Stop talking, start doing.
I'm a great believer that you should always stretch your thinking by looking for inspiration anywhere.  These two were great examples of individuals that the world needs.  Radical and original thinkers who create cool, beautiful things.  Inspiration aplenty.  You can find both gentlemen on Twitter.  @stevenbonner @johnmcfaul.  Well worth a follow.