"Fear is a liar."  Entrepreneur Oliver Cookson shared this great one-liner with a room full with like-minded people at Insider Magazines annual 42 under 42 dinner, held earlier this month (14/10).
Telling a wonderful story, which started with a single bag of Whey purchased from a farmer who took a gamble on him, Cookson simply took the concept of Protein supplements, evaluated the supply chain and margin capability, then disrupted the sector by selling it direct through his own website. It worked.  The business – My Protein – went on to sell for around £60M to The Hut Group. I'm always hugely interested to listen to stories from Entrepreneurs, there are always so many valuable takeaways which you can use for inspiration in life or business.  Let me share a few things that resonated with me from the talk that Oliver gave….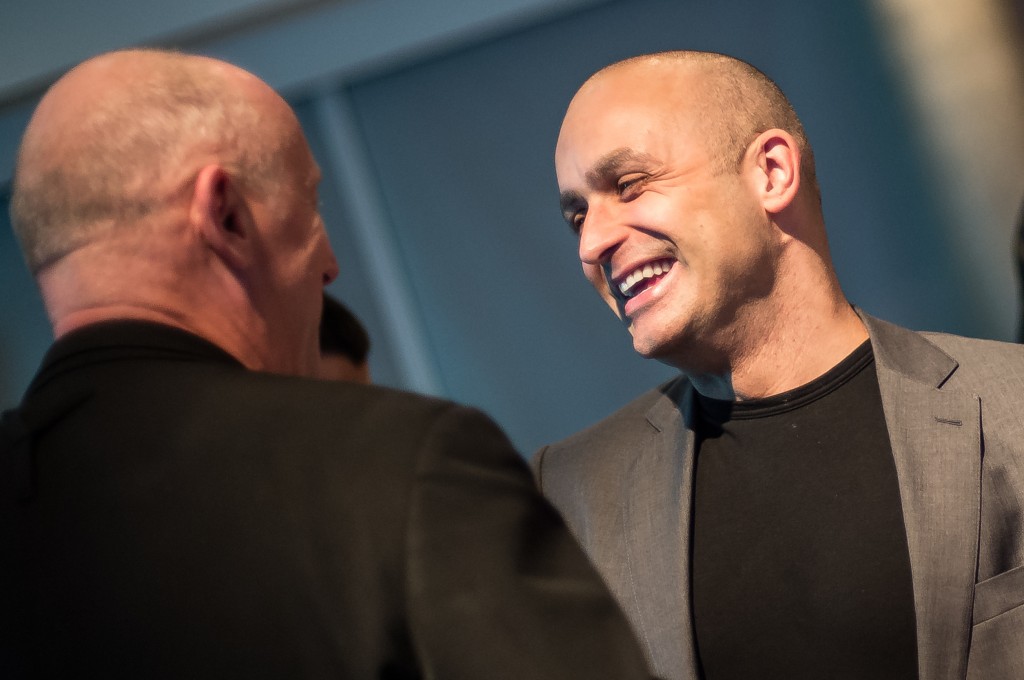 He came from a single parent family and left school with a single GCSE in Science, he left college after two weeks.  So much emphasis is put on further education in life, however do not let it be an inhibitor to your ambition or determination to change your dynamic or outcomes if you weren't successful at school.  Time and time again, in successful people, is a back story of early adversity.  No silver spoons, but a taste of life that they later choose to de-couple from and start anew.  Look to all the big entrepreneurs, you'll find a story.
Gaining an apprenticeship kick-started his career.  With so much focus on apprenticeships right now, you can see how valuable they are in providing structure to a young person, an opportunity to be coached, mentored, educated,  moulded and injected with confidence.  If you don't provide apprenticeships in your business, why not consider it?  One apprenticeship could change the life direction of a young person.
He had an idea and actioned it.  The major difference between those that seek success and those that dream about it.  Those that seek it, take action.  Oliver took his action by understanding the market, defining his own product, then pursuing it with a drive and passion.  It all started with a single bag of Whey, purchased from a farmer who agreed to sell it to him to stop Oliver from calling him so often!  That farmer later enjoyed a huge business with Oliver as he rewarded him with business to the tune of 50 tonnes of whey a month.  There are so many lessons in this paragraph alone, take action, don't give up and give someone a break!  He commented during the talk – "the hardest thing was starting."  I've spoken before about fear and "fear of failure" is a big distortion which stops people doing things in life.  The bottom line is fear is a manifest of our imagination, hence the brilliant but true line "fear is a liar".
Cookson went social, before the world went social.  Back in 2004/5, web 2.0 was just starting.  With little marketing budget or resources, Cookson set to convince the world of his product by spending time in forums and also introducing a referral scheme in his customer base.  World of mouth soon spread and it went viral.  This ultimately meant the business didn't have enormous marketing costs and Cookson had no debt from the day he started until the day he sold it, retaining 100% of the equity.  That is a considerable achievement and just shows the power of communities.
Get the baby ready!  An interesting part of the evenings talk was when asked about the sale of the business.  Cookson had a beauty parade of top hitting investors keen to take the business off his hands including Nestle and Pepsi.  Building a business from scratch, moulding it to be your own and then preparing it for sale is a tough job, particularly the last bit.  Investors want to see robust processes, professional management, long term strategies and particularly that the business will survive independent of its original founder.  That can be tough for a founder as they hand over control to others by bringing people in, having to give up the reins and see others take it in potentially different directions.
What shall I do now?  Sitting in a serviced office, a multi-millionaire, yet with a huge void in his life through the sale of his business he stared at a whiteboard with a pen and asked himself the question.  What should I do next?  And thus the next phase began, albeit with a shedload of money behind his next venture – Saints and Slimmers.  The big lesson here is about purpose.  Despite being incredibly wealthy, Cookson retains the desire to create, which is what I really admire.  Money doesn't buy purpose, purpose is a natural driver that every human being needs, money or no money.  Define yours.