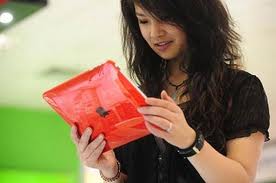 If you want to know what's going in a sector, go and hear one of the top management consultancies deliver a talk.  I did this morning, when I attended a seminar by Deloitte on the future of retailing. 
One of the guest speakers was New Channels programme manager at Marks and Spencer – Alice Rackley.  Leading a forty strong team inside the business (which was only six strong six months ago), her job  is to integrate the on-line with the off-line.  I have to say I didn't realise M&S were doing quite so much.  They aim to be the number one multi-channel retailer in the world, that's aiming high.
Typical examples of things they are doing include equipping assistants with i-pads selling extended ranges, installing screens in store which allows customers to see user generated content reviews of the products they sell, augmented reality mirrors in their new make-up concession.  The really smart thing I thought they were doing was probably the simplest, putting wi-fi networks in all their stores so that people can browse their mobile shopping sites at good speeds on their own devices.
Deloitte had a couple of speakers up who threw some good stats and trends up.  Here's a few in no particular order: –
Amazon are expected to overtake John Lewis and M&S to become the largest variety retailer by 2014.
Apple are expected to have sold 80M i-Pads by the end of 2012.
48% of shoppers own a smartphone, 58% of those people use them for store related shopping (this works out to 27% of all smartphone owners if you do the math).
Marks and Spencer transacted 6% of all on-line sales on i-Pads in Jan 2012, by June it was 8%.
1 in 5 retail purchases will be via Smartphone by 2014.
Big theme is "digital ubiquity" – that is digital everywhere.
New innovation coming to market is "audio watermarking" whereby an embedded watermark is put into a TV ad which then triggers an experience on your i-Pad if your multi-screening.
It took Apple this long per device to sell 67M units – Macs -24 years, i-Pods – 5 years, i-Phones – 3 years, i-Pads – 2 years.
Speed of Response is becoming key.  An example was given on retailer "New Look" who reacted to a new Kate Middleton outfit with an entire digital response within 24 hours of "get the look."
Prediction of "death of the till" as store assistants use hand-held devices to optimise conversion.
Example given on a retailer who has equipped their staff with i-Pads to take photo's of people outside dressing rooms, then recommend other clothes/complementary purchases.
Future for retailers will also be about analytics and making "fact-based" decisions amongst the big data that exists.
What struck me was just how much disruption there continues to be in the sector and it wrestles with it's multi-channel strategy.  Some are doing it well, others not.   What's clear is that the traditional landscape is changing at a supersonic speeed, expect more casualties from those that fail to react.