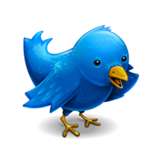 This week saw me click over three years as a user on the Twitter platform,  how time flies.  It's become part of my everyday business life and an essential part of my personal growth and network development.
This blogpost is not going to be one of those "reasons to be on Twitter" blogs, hopefully the world is over that one.  I do however want to share some outcomes, experiences and learnings that have come to bear over the last three years to encourage others: –
Early Days (Followers 0).
A bit random  Not really knowing how best to use the platform.
Not having a genre.  Tweeting all sorts, business and personal.
Following anyone that would follow me back.  No particular selection process.
Bit too focused on numbers of followers and how to acquire more.  A zero sum game.
Used the basic web interface.  Found it frustrating and missed so much good content.
Exchanged messages with a lot of people that I knew who had early adopted it – it meant I got to know a few people better.
Sent too many Tweets.  Didn't realise that if you "machine gun" tweets out, it adds nothing.
Mid Term (Followers around 1,500)
Switched to Tweetdeck –  it all made a lot more sense.
Set up search columns.  Realised the tool is much more powerful than just following people/follow backs and could be used as a live "google search" on the terms I wanted.
Saw the potential for personal learning (following great people and their insights), following journalists (trends) to see what is new in technology.
Realised that it's better to create a genre for my account.  Business, Leadership, Innovation, Environment, Sales, Marketing, Trends,  Social Media.  Keep it focused on those elements, less about me, more about them.
Accepted that followers is about engagement and influence.  People will come and go as there tastes/jobs/lives change.  Follower numbers are fluid, as I follow/unfollow, people will follow/unfollow me.
Realised it could be used to effectively drive traffic to websites and blogs –  providing the content has been filtered, is of good quality and enriches your audience.  My blogposts are my own unique thoughts, not content from others.  The more people see it and agree with it, the more likely it is they'll stick with you.
Started unfollowing people.  Realised that there is no benefit to having Twitter followers if you have nothing in common with them or  never interact with them.  Otherwise, they are just meaningless numbers.  Actively began to disengage with some followers, happy that my follower numbers may reduce – they didn't, they've continued to grow.
Now (Followers around 3,600)
No focus on followers – just on good content to share.  Review everyone that follows me to see if I can learn anything from them.  I don't target followers, have a number in my head or see it as any kind of popularity KPI.
Still a big focus on personal learning –  Seeing what's hot, new, changing.  Using that to develop insight for personal development or company direction.
Supporting Corporate and Personal Reputation.  Being accessible as a business leader within a large multi-national brings opportunities to our door first.  Great outcome as you can have first refusal on exciting initiatives.
Filtering.  Using search columns and interesting people to see great stuff and share it.  I don't send anything out unless I have personally read it and see it of value.
Network Development.  Twitter is my trawler net of contacts to meet in person, then add to my Linkedin network.  My ratio of Twitter followers to Linkedin network is around 6:1 and continues to grow.  That's where I can distinguish who is an "associate" relationship, rather than someone I consider to be of longer-term value.
To develop insight around individuals or businesses.  To start/develop conversations with people to assist in the development of intelligence for business development purposes or opportunity engineering.
To stay in contact with people in my wider network and underpin relationships.  A chance meeting becomes much more meaningful when you can refer to something that has recently happended to the third party.  I use filter columns in Tweetdeck to track important people, like a "live" electronic little black book.
Housekeeping.  It's important to regularly review who has gone inactive, what your last 10 Tweets say about you if someone looks at your feed (delete stuff if you think it stepped outside your genre), thank people for RT's and mentions, review the profiles of people that follow you to ensure that they fit your desired  intention for your Twitter feed and – more importantly – keep the feed going with some regularity and frequency.
It's very satisfying when someone says to you "I really like your Tweets, you always share interesting stuff."  There's the point, if it's interesting, of value, filtered, original and adds value to your network – your followers will grow.
Remember the film "field of dreams" with that famous line "if you build it, they will come."  Twitter is no different, see it as a long term investment in your personal learning, network growth and reputation.  If you build a feed which is of value to others, they will magnetise towards you.
The world has shifted and it's amazing to have been there when life changed.  When people's  lives became transparent, when an individuals right to reply shifted large brands thinking, when disasters and major events unfolded with the people, rather than the news channels.
Status updates are an amazing thing, they are powerful, insightful and give you an ability to zoom in on the world, on personal conversations, on opportunity and ultimately – people.  Here's to the next three years.