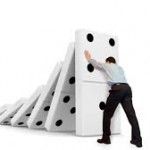 When learning how to increase emotional intelligence by assuming greater responsibility for self, you will need to develop new ways of thinking and coping mechanisms to develop new habits.   Let me share a very powerful technique which give you power to 'let go' of moments which normally might rile you or leave you feeling unnecessarily angry or frustrated.
The concept of the 'unintended consequence' was something I was introduced to by a psychologist around ten years ago.  When you consider how simple it is to re-frame your thoughts, then you will also see how easy it is to flip your thinking.
So what are they?  
Unintended consequences can be roughly grouped into three types: –
A positive, unexpected benefit.
A negative, unexpected detriment.
A perverse effect contrary to what was originally intended (when an intended solution makes a problem worse).
So, number one is nice and easy, we don't need to spend any time there, we get some luck, serendipity or a great unexpected outcome.
Two and three is where this technique becomes powerful.  Assume something has happened which has caused you some grief, let's just say a waiter accidentally drops a drink on you.  Your brains instant response is triggered by the emotional limbic area driving an emotional over-reaction, often irrational and judgmental, looking for blame.
Whooooahhhh.  Hang on a minute!
If coming at that same event from the perspective of an unintended consequence, you can raise an immediate red card, then react to the event more deliberately by controlling your thinking.  The thought process would be something like – "That was an unintended consequence, the waiter didn't mean to drop that drink, I just happened to be in the way.  These things happen in life from time to time and in the big picture, nobody died and it my clothes will soon dry."
When combined with 'mindful' thinking, the power of understanding and rationalising what you previously might label mistakes, allows you to quickly move and and let things go, reducing stress, self-talk and confrontations.
You can use the technique at all times in your personal and work-life to train your brain to switch to rational thinking as quickly as possible.   By going to that place, everything calms down, you avoid an adrenalin rush and your systems get back to normal quickly.
Why not try it?  Next time something happens that you perceive to have some intent, just let it go, put yourself in the other persons shoes, assume it was simply a mistake or accident and move on.  This is all about your emotional health, building your emotional armour and maintaining a strong, steady, state of EQuilibrium at all times.