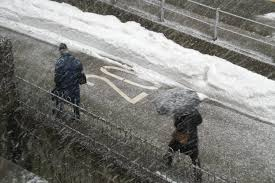 It's not a spelling mistake, just a handy play on words.  Talking about the weather is a national past time in the UK, we could compete in the Olympics for how poor weather makes us feel.  When we talk about the weather, it's generally in a context of downtroddenness.
That same downtroddenness can be observed around individuals suffering from inaction and inertia.  How many people do you meet who dither, delay and put off major decisions, wanting to weigh up every minor detail or excusing themselves through fear?  Taking so long, that by the time they've decided the moment or opportunity is lost, becoming a dragging anchor on those around them whilst they talk about the one that got away.
Devoting your life to action is a key decision you can take now to improve your outcomes.  Innovation is when creativity gets implemented and it's no surprise that successful people simply action more frequently than most.  They manage their fear, work through the possibilities, get it prioritised and just do it.  Now what's stopping you?