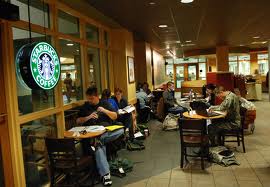 The UK MD of Starbucks – Kris Engskov – did an embarassing climb down today, in response to consumer and government pressure about their UK tax position.  Offering to pay £20M over the next two years to the UK tax authorities, regardless if Starbucks make a profit or not, they've opened themselves up for further fire.  UK authorities have taken the gesture badly, tax isn't negotiable.
Starbucks are one of the three American 'GAS' companies (Google, Amazon, Starbucks) who have adoped similar tax positions which sees them use loopholes in tax law to minimise their corporate taxation position.  There is nothing illegal in what they are doing, they are simply optimising their global tax position, through professional advice.  Maybe their mistake is that this did not exist on a risk register somewhere – What if we got found out and opinion turned against us?
The consumer backlash has been vociferous, with customers boycotting the stores and Starbucks being the lead story in the national media, fuelling sentiment even further.  Clearly Starbucks has taken a battering and they are trying to go on the offensive, perhaps with a slightly ill-advised recovery strategy.  The horse has bolted.
A business is entitled to minimise its Corporate taxation position under the rules, morality aside.  They are not the first, nor will they be the last.  I'm sure the media are undertaking an audit of other USA businesses to keep the story going and there will be further outings in weeks to come, like the MP's expenses.
Will Amazon and Google suffer at the hands of consumers too?
It's easy to walk into another coffee shop – maybe Costa – as you're "voting with your wallet to show displeasure moment" to crowd-force Starbucks into doing something in the short term - and its easily argued that this has worked, we've seen action.  However, a long term boycott means staff may suffer as takings decline and stores get closed or consolidated.  It's not the fault of the front-line people, it's a strategic decision for the management to take the flack for, that's why I'm still ordering my coffee from my usual shop, from the usual barista's, in the usual way.   The people at the top have taken notice and long term changes will come as a result, they are on the radar of the politicians, not a good place to be.
Google and Amazon have stayed very quite on the issue, happy to see Starbucks take the bullets.  They were the easy target, on the high st., a discretionary purchase and easy to blame.  I haven't seen a boycott of  Google or Amazon in the same way.  Google and Amazon feed a need for instantaneousness and convenience in peoples lives in such a way that they are simply embedded in the way people transact their daily business and the back-up options are few and far between. 
They will no doubt be reviewing their position and have media statements ready, however I don't think they will see the bottom line impact of a consumer mob in the same way that Starbucks has seen.
Fundamentally, if blame were to go anywhere, it should go towards the system.  If a system exists which allows GAS -  as companies – to move profits around the EU legally using all of these royalty payments and licence agreements, then that is what needs to be reviewed.  We may not like that these businesses take full advantage of it, but equally if they choose to, then they should not complain if they suffer a consumer backlash as a result.  That is simply part of the decision making process and management of risk.  Tax authorities allow for such things in complex international organisations under transfer pricing agreements and the like, the question is for any business is how far do you want to take it?
They realise this, you only need to read the open letters on their website from their CEO, CFO and UK MD to see that the situation is complex.  However, like anything, headlines say one thing, details say another.  De-fragging a complex global tax structure is never going to be easy, particularly for the average person in the street.  The bottom line is that the issue it out.  To protect their UK employed partners, their brand reputation and their long term investments in apprentices, they need to tackle this quickly and make it yesterday's fish and chip paper, or low-fat blueberry muffin packaging in their case.